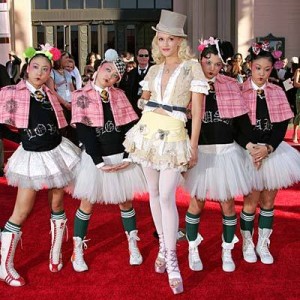 TIME asks Gwen Stefani of NBC's The Voice and No Doubt fame, "Looking back on Love. Angel. Music. Baby., do you regret the Harajuku Girls given the criticism you received?" Guess what, she doesn't!
From TIME:
No. There's always going to be two sides to everything. For me, everything that I did with the Harajuku Girls was just a pure compliment and being a fan. You can't be a fan of somebody else? Or another culture? Of course you can. Of course you can celebrate other cultures. That's what Japanese culture and American culture have done. It's like I say in the song ["Harajuku Girls"]: it's a ping-pong match. We do something American, they take it and they flip it and make it so Japanese and so cool. And we take it back and go, "Whoa, that's so cool!" That's so beautiful. It's a beautiful thing in the world, how our cultures come together. I don't feel like I did anything but share that love. You can look at it from a negative point of view if you want to, but get off my cloud. Because, seriously, that was all meant out of love.

And the girls themselves, it was just a magical thing to get to know them. They were dancers that were cast, but they became real. One girl was a Japanese girl that grew up in L.A., and she got to hang around with three different Japanese girls that were from different places in Japan and had different backgrounds. They became best friends, and she got to go to Japan and see her heritage and see how we are all the same. And I got to hang out with girls for the first time.
Check out Gwen's Harajuku Girls in this Hollerback Girl video on Vevo.