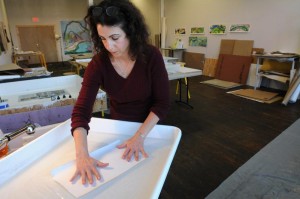 Kathryn Fanelli, a painter in Amherst, Massachusetts, works with traditional Japanese suminagashi ("floating ink") techniques — dropping pigments onto the surface of water and mixing them into designs before lifting the image from the water using paper.
Fanelli says she began using the technique five years ago after she experienced something similar in a dream. The Eastern approach to art, she adds, allows her to slow down her pace and work in a "relaxed but aware state." Slowing down to "the speed of one's breath," Fanelli says, allows her to pay attention to her thoughts and what is happening with her hands, opening up a new level of awareness.
Read more about her 2014 open studios.